OUR ALPACAS - CAMELS IN CAROLS ON THE HILL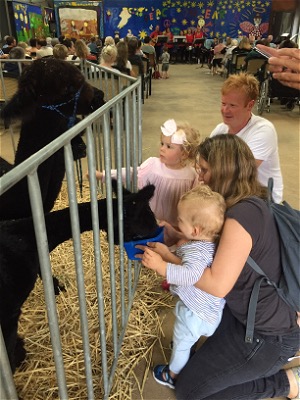 Each year, three of our alpacas are chosen to be the "camels" in the Nativity Scene in Red Hill's "Carols on the Hill" where they parade with the three Kings to the manger and stand patiently while the traditional carols are sung.
This is a delightful photo taken of a lovely family feeding the "camels", suris, Aksha and Ultimatum, and huacaya, MacArthur.
WEDDING DAY PHOTOS IN THE SUNSET WITH COLUMBUS AND SOMERSBY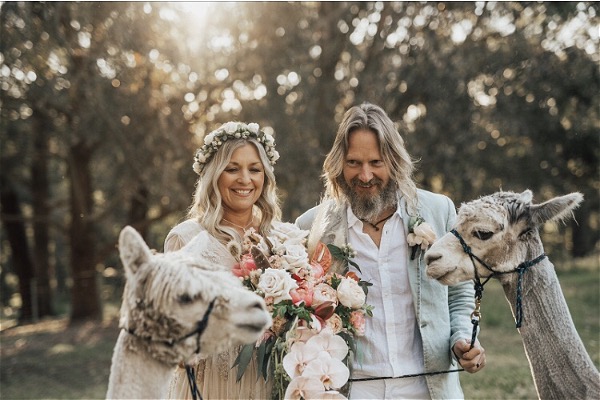 How beautiful is this photo taken in the dappled evening sunlight on this lovely couple's wedding day!
PITCHINGGA RIDGE'S KOALAS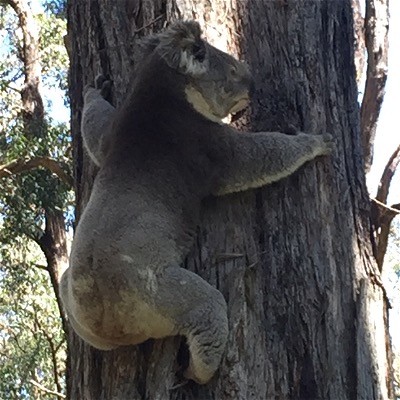 High up in the eucalypts at Pitchingga Ridge are our resident koalas. It is difficult to find them, but occasionally they wander through the paddocks, closely observed by our inquisitive alpacas.
ON-FARM PHOTO SHOOT FOR L A FASHION MAGAZINE, VOLITION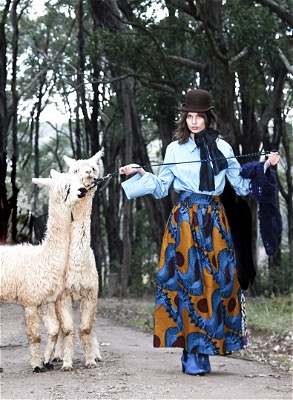 Beautiful Aria and Sigrid play their part in a recent all-day photo shoot featuring Amano knitwear by Lorena Laing.
A PHOTO FROM THE PAST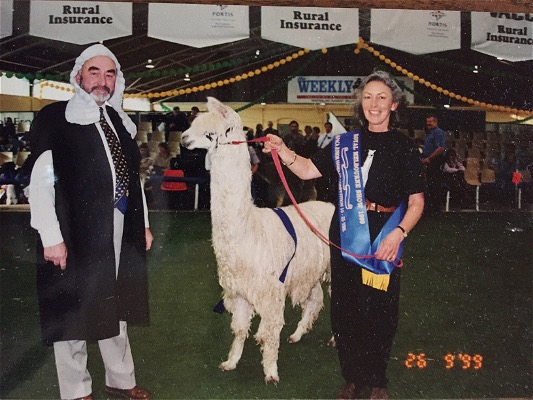 Apollo was one of the first suris shown at the Royal Melbourne Show. Back in 1999, here he is having won for me the Senior Handler's Competition!
Apollo is still going strong. He, and his other old mates do get some special care and have their own shed to go to when the weather turns cold.
Alpacas generally have a life expectancy of 15 to 18 years, but Apollo and his mates have gone well beyond that into their twenties.
SHEARING IS OVER FOR ANOTHER YEAR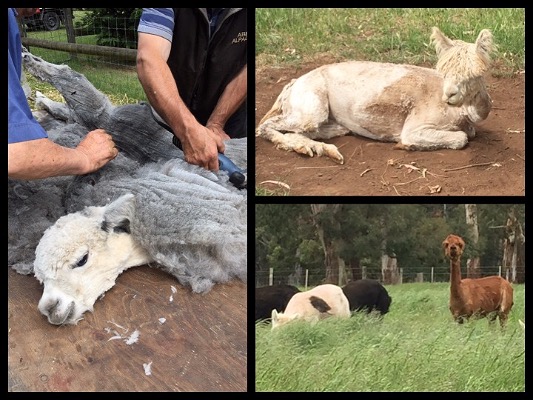 It is quite a treat to see our beautiful fleeces fold off the shears every year. And the alpacas look so clean and neat. Why do they have to go and roll in the dirt as soon as they run out of the shed! Of course, after a quick roll, it is down to the business of eating straight away!
ARIA FEATURES IN RECENT FASHION MAGAZINE PHOTO SHOOT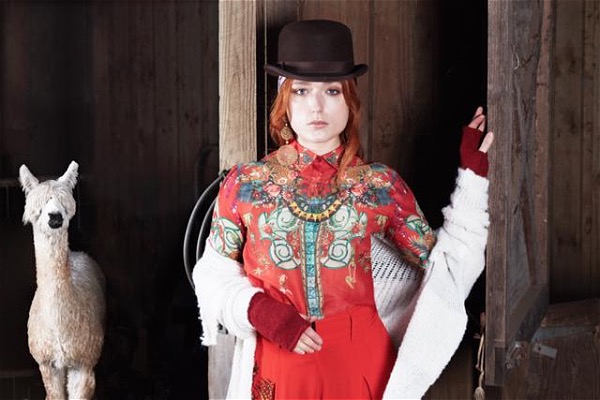 Striking photo taken for publication in LA fashion magazine, Volition
Aria, our young pregnant Appaloosa suri was happy to pose with the models for the photographers in a recent fashion photo shoot on our farm.
FROM CRIA TO CHAMPION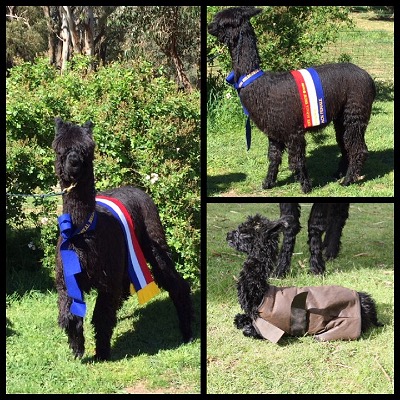 Midnight Moon, daughter of our oldest black suri, Midnight Lace, did so very well in her show career, topping it off with Champion Black Suri Female at the Royal Melbourne Alpaca Show, 2018.
PITCHINGGA RIDGE WINSTON'S STUNNING BLACK FLEECE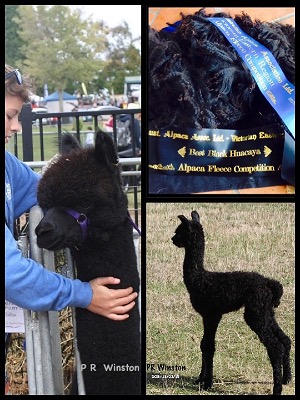 Pitchingga Ridge Winston
Winston continues to produce one of our best black huacaya fleeces year after year. It is true blue/black, fine, with well defined crimpy staples, and great density. We are looking forward to having it spun into some beautiful yarn.
BEAUTIFUL ALPACA PRODUCT IN OUR ON-FARM SHOP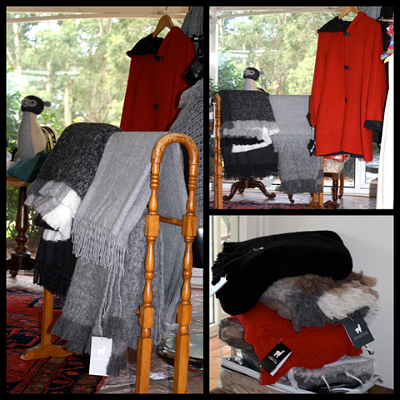 Stunning throws, wraps, coats scarves and more!
A DIFFERENT SIDE TO ALPACA FARMING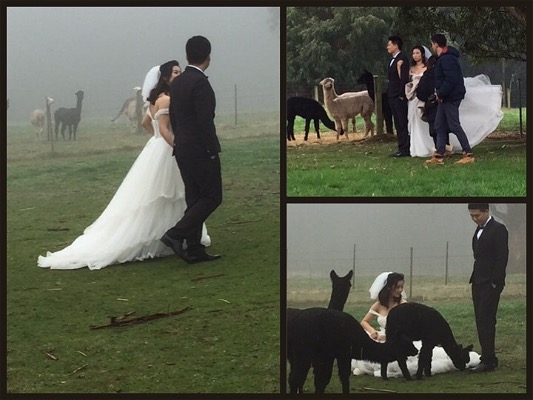 Recently, our alpacas and farm have been chosen to provide the backdrop to some lovely wedding album photo shoots. These photos were taken while watching the professional photographers at work.
FERRY TRIP FOR SOLEIL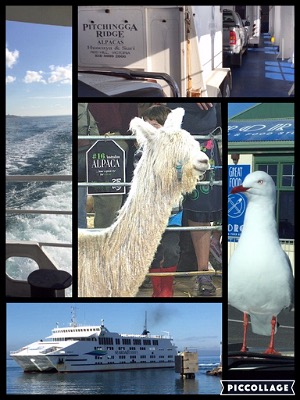 A day's adventure in the life of Soleil - a ferry trip for her mating to Kurrawa Shavari
WITH THE MUSOS AT THE RED HILL SHOW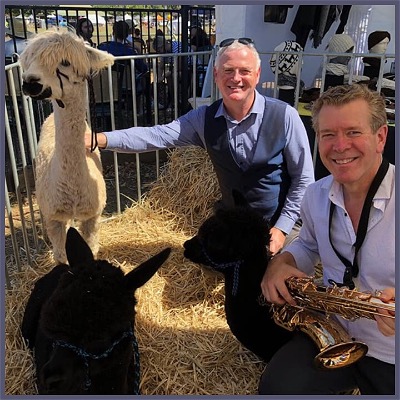 Aria, Dark Moon and Nellie T with The Jackson Four at the Red Hill Show.
FANTASIA, OUR BEAUTIFUL BLACK SURI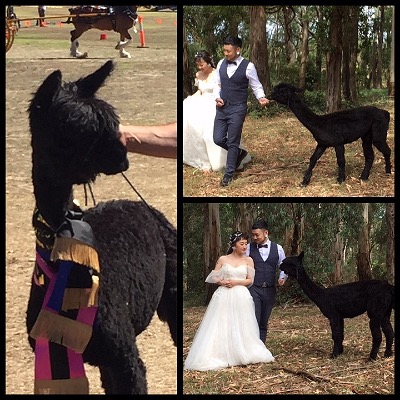 Fantasia - one day a Champion in the Grand Parade at the Red Hill Show - the next, starring in a Wedding Photo Shoot back on the farm.
NEW ALPACA THROWS IN OUR ON -FARM SHOP.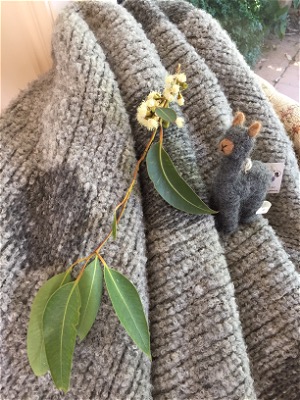 Beautiful soft alpaca "Dot Throws" by Fabrica, handcrafted in Melbourne, now available in our on-farm shop.
Four different colour combinations to choose from.
ON-FARM WEDDING PHOTO SHOOTS WITH OUR ALPACAS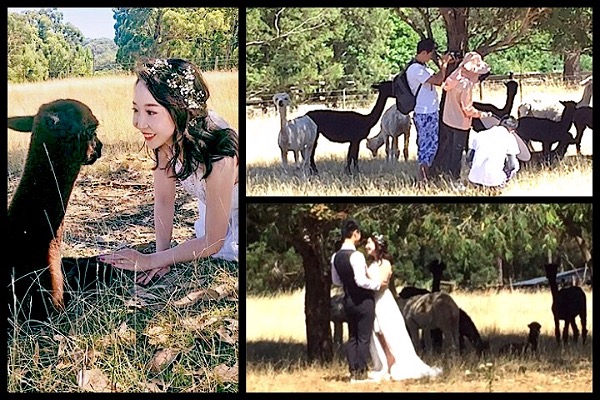 Mums and crias featured in a recent phot-shoot under the gums on our farm.
2017 CRIAS ALL GROWING UP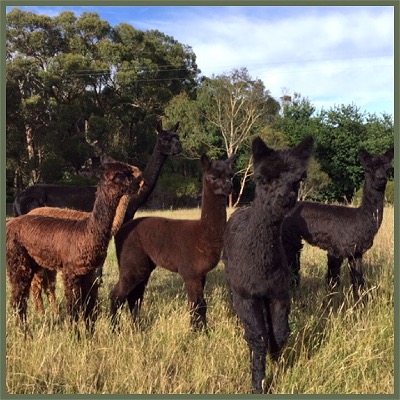 Our final group of crias for 2017 are all growing up. Such an inquisitive, friendly little group who love to meet visitors.